Thank you for registering! We sent you a confirmation email; please click the validation link to confirm your subscription.
Hospitality & Entertainment Industry Partnership Meeting (Rescheduled from 4/27/20)
COVID-19, What's Next?
This event is over
Due to social distancing practices and stay at home orders set in place by Governor Tom Wolf, many employers have furloughed or laid-off workers, and in some cases, have stopped operations all together. This has deepened the economic, social, and cultural uncertainty for the entire industry.
For now, uncertainty is our reality; however, we must continue to collaborate and share solutions for sustaining and plans for recovery. Philadelphia's hospitality and entertainment industry will only sustain and recover through strong leadership and collaboration.
Now is the time to shift our focus from what is to "What's Next?" This IP is prime to lead the way for a full industry recovery. Our hope is that we can come up with strong recommendations that inform the decisions of our business owners and industry leaders, ultimately protecting the future livelihood of all industry workers. To join the meeting, cut and paste the location link into your browser. 
Linked topic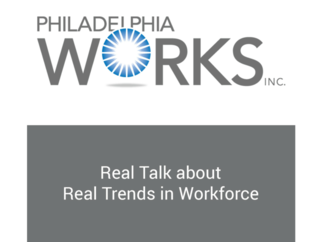 Philadelphia, PA, USA, April 9, 2020
Ellen Metro, the business engagement representative for hospitality & entertainment at Philadelphia Works, joins the program to discuss the benefits of joining an Industry Partnership[...]