Thank you for registering! We sent you a confirmation email; please click the validation link to confirm your subscription.
Sheila Boornazian
English
Sheila Boornazian is the vice president of Human Resources and Administration at Philadelphia Works, the city's workforce development board. She has over 25 years of Human Resource experience driving all human capital initiatives including talent management, talent acquisition, organizational planning, performance management and improvement systems, as well as succession planning. Sheila is an expert in human resource issues such as, but not limited to, employment and compliance to regulatory concerns, policy development, compensation and benefits administration, payroll, and employee engagement and recognition. 
Prior to joining Philadelphia Works, Sheila had a successful career in the financial services industry for Meridian Mortgage and Radian Guarantee during the rise and fall of interest rates in the 1990's. Additionally, she provided strategic HR services to small to mid-sized manufacturing firms in Southeastern PA. In 2014, she accepted a full time HR Director position with one of her clients at Schramm Incorporated; a manufacturer of drilling rigs.Sheila holds a BS in Management from Kutztown University and an MS in Human Resources from Widener University. Sheila was a member of the Chester County Workforce Development Board for over four years and the Manufacturing Alliance of Chester and Delaware Counties Board of Directors for over three  years. 
Linked topics
April 29, 2022
Our vision for professional development is to support Philadelphia Works' mission of managing smart workforce solutions that respond to business needs and increase economic opportunity for[...]
Philadelphia, PA, USA, June 17, 2021
Sheila Boornazian, Vice President of Human Resources and Administration at Philadelphia Works, and Uva Coles, Founder, and CEO of Inclusiva, join the program to discuss the exciting efforts[...]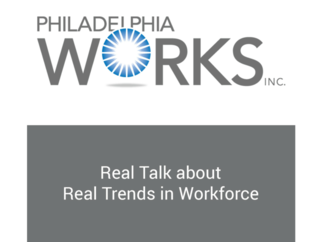 Philadelphia, PA, USA, May 20, 2020
As the COVID-19 rate of infection slows and Pennsylvania plans to reopen, employers who were fortunate enough to transition their staff to remote work, are preparing for employees to return[...]