Thank you for registering! We sent you a confirmation email; please click the validation link to confirm your subscription.
Maximize Your Summer 2020! Access Free Career and Training Resources
The summer months are a great time for career seekers to explore and connect to workforce resources as part of their plan to reach future career development goals. 
]
Philadelphia Works, the City's workforce development board, has partnered with the City of Philadelphia, and Philadelphia Youth Network (PYN) to produce a simple guide to navigate free local workforce resources to grow, earn, and learn this summer. Together, our goal is to provide easy access to employment and training opportunities available to Philadelphia residents of all ages.
Volunteer resources for youth up to age 18 are available through the Mayor's Office of Civic Engagement and Volunteer Service. Youth ages 16-24 who are interested in going back to school, employment opportunities, or obtaining valuable life skills are encouraged to reach out to an E3 Power Center. Residents of all ages who are ready to enter the workforce can access job and training opportunities through PA CareerLink's Virtual Resource Center. Connect with resources to maximize their summer 2020!
Community Leaders:
REGISTER FOR THE INFO SESSION HERE: https://phillysummerworkforceflier.eventbrite.com
Linked topics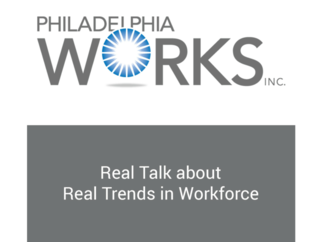 Philadelphia, PA, USA, June 24, 2019
Landing your first job when you don't have any experience can be difficult. This is especially true if you haven't finished high school or have other barriers to overcome. Philadelphia Works supports[...]
Philadelphia, PA, USA, March 20, 2019
Thanks to State/Local Internship Program Grant from Governor Tom Wolf, 190 additional youth and young adults will receive a summer work experience with increased wages and more hours