Thank you for registering! We sent you a confirmation email; please click the validation link to confirm your subscription.
Kataney Couamin
English
Kataney Couamin, Director of Workforce Operations at Philadelphia Works, Inc., is responsible for ensuring the maximum effectiveness, efficiency, and integration of the adult workforce operations of the Philadelphia One-Stop System. Kataney manages and facilitates the overall operation of the PA CareerLink® Philadelphia centers along with the System-Wide Services provider ensuring all strategic goals and standards are met as outlined by the funding sources and organizational objectives.
Prior to joining Philadelphia Works, Kataney worked for the City of Philadelphia's Office of Homeless Services where she managed, then led the application and retention of $30M+ worth of housing projects for people experiencing homelessness under the Continuum of Care program. Kataney first served the City supporting the network of homeless service providers and later, as the Director of Planning where she also directed the implementation of the Roadmap to Homes Five-Year Strategic Plan to effectively align the homeless assistance system to federal and local priorities.
Kataney's experience extends among diverse populations to include persons with disabilities, child welfare, people experiencing homelessness, and the strategic development of programming for the sake of bringing innovation to public welfare.
Kataney Couamin holds a Bachelor of Science in Sociology from Saint Joseph's University, a Master of Science in Counseling from Cairn University, and a Master of Public Administration from Villanova University.
 
Linked topic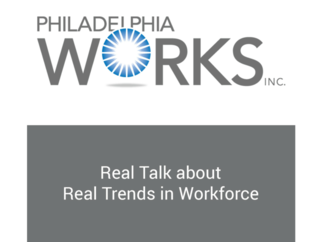 Philadelphia, PA, USA, September 21, 2020
As Philadelphia residents and businesses continue to navigate Pennsylvania's reopening plans and make informed decisions about their futures, Philadelphia Works is diligently striving every[...]